Still no sign of all your favourite physical events?
Stick with us and enjoy some online events until then.
People love the ease and convenience of watching shows from the comfort of their own homes.
UPCOMING EVENTS
* Please note all shows have a R5.00 booking fee per ticket
Klein Karoo Klassique Virtual Concert Series: R75 – R100
Thu Aug 27, 18:00 – Mon Sep 21, 00:00
The first digital Klein Karoo Klassique Concert Series in collaboration with the Cape Town Philharmonic Orchestra and Charl du Plessis. A four-part series streamed every Thursday. TICKETS
ANOTHER ONE! starring Marc Lottering – R70
Sat Aug 29, 19:30 – Sat Sep 5, 20:30
Comedian Marc Lottering legally leaves his bedroom for his second online comedy show entitled ANOTHER ONE! Marc's show features his new stand-up material, as well as appearances by his popular, alter ego's Aunty Merle Abrahams, Smiley the taxi dude, and Colleen the Cashier from Hell. Age Restriction: 12 years. TICKETS
Why Should I Hesitate: Sculpture (Short Film) – R50
Wed 25th Aug 12:00 – Mon 31st August 2020 12:00
A short film collaboration between Cape Town City Ballet, The Norval Foundation and William Kentridge. Filmed at The Norval Foundation in Cape Town. Featuring the work of choreographers from the Cape Town City Ballet Chorealab Initiative, a program to encourage, nurture and mentor young talent and supported by The City of Cape Town. TICKETS
Run for Hope – FROM R50
Sat Aug 29, 06:00 – Sat Aug 29, 18:00
Lace up and celebrate Women's Month, by taking part in a 5km Virtual Run, raising funds to supply reusable sanitary kits to young girls and women in desperate need! This Virtual Run will take place on the 29th of August, from 6 am to 6 pm. The beauty of the Virtual Run is that you can run/walk wherever you want, whenever you want and at any pace! TICKETS
The South African Book Fair 2020 ONLINE – R50
Fri Sep 11, 08:00 – Sun Sep 13, 17:00
This year's virtual South African Book Fair offers a highly relevant, topical, immersive and engaging virtual experience for readers and book lovers of all ages as well as for authors, illustrators, poets and members of the book and publishing industry. TICKETS
That Coloured Show – R75
Sat Sep 5, 19:30 – Wed Sep 30, 19:30
In this talk show, Yusuf Daniels (Number 1 best selling author, air steward and international baseball star) invites some of the Capes most loved and celebrated performers for a very informal chat. In this, no holds barred first episode he has poet Chelsea Goliath, Comedian and Mega Star Marc Lottering, singer Chad Saaiman and nice guy Deen Woodman. TICKETS
The Most Amazing Show: Everything is Amazing! – R100
Sat Aug 29, 21:00 – Sat Aug 29, 22:30
No booze but more racism. No ciggies but more police violence. No freedom but more Donald Trump. What a time to be barely alive!
In a world where hindsight is 2020 and 2020 has been one heck of a year only Cornè and Twakkie can change your vibe from everything is not lekker to everything is amazing. TICKETS
Kurt Schoonraad presents Living with the German – R70
Sat Sep 12, 19:30 – Mon Oct 12, 23:45
A Comedy show about the funny side of a culture clash.
As if cohabitation between a man and a woman isn't difficult enough, add two contrasting cultures trying to learn about each other in the multi-cultural epicentre of Cape Town and you have a laugh-a-minute show. TICKETS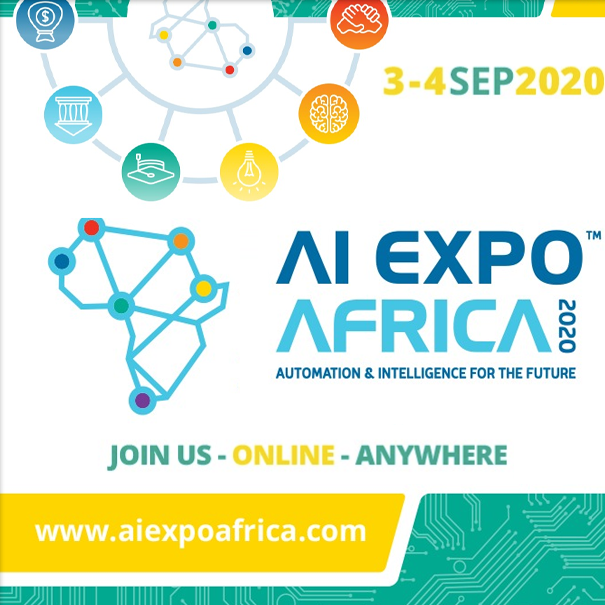 AI Expo Africa 2020 Online – R800
Thu Sep 3, 07:30 – Fri Sep 4, 18:00
Now in its 3rd year, AI Expo Africa is the largest business-focused AI, RPA and Data Science buyer/supplier trade event in Africa. Our 2020 online conference and expo will run on 3rd-4th September 2020 to a regional and global audience and builds upon the phenomenal success of the 2018 / 2019 events that were held in Cape Town, that cemented it as the largest gathering of its kind in Africa. TICKETS